Scorpionfish
Scorpaenidae
© Chad Clark 16-5-01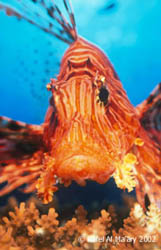 They must be the ugliest most beautiful fish in the sea. In either their scorpionfish guise as part of the reef, stonefish guise as a lump of rock or in lionfish guise as an exotic dancer they posses the same unredeeming quality, they're really painful to touch. I brushed my knee on one last year and felt like cutting my leg off. The only cure is hot water, as hot as you can bear, to try to disperse the protein based poison. After a couple of hour's agony it should get better. Some people react fatally to it so beware. There are dozens of different subfamilies but they fall into the following categories:
The scorpionfish looks like a fish, not a scorpion. It has this incredible chameleon like power to change its colour to that of the reef it's sitting on and simply disappear. It just sort of lies there blinking its funny eyes with its mouth open waiting for an opportunity to feed.

The stonefish variety is called a passive predator. They're covered in poisonous spines and they're pretty passive. They just chill like a rock until some poor hapless little fishy comes along. Almost too quick to see, they grab the little fishy, swallow it whole and make like a rock again. Not a very interesting life really.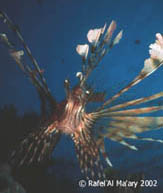 The lionfish, on the other hand, are more of a poseur predator who love the spotlight, especially on night dives. They sashay around with their spines fanned out like peacocks' feathers and are afraid of no one. They come in all shapes, sizes and colours and are described variously as common lionfish, red lionfish, zebrafish, turkeyfish and thatbastardikneltonfish. They eat all the little fishes too. Bastards.